Logitech MK235 Wireless Keyboard & Mouse Combo
Logitech MK235 Wireless Keyboard & Mouse Combo
SPECIFICATIONS:

OFFICIAL SUPPORT & WARRANTY

Availability:

In Stock
Hurry!
only

100

left in stock!
Logitech MK235 Wireless Keyboard & Mouse Combo
Logitech MK235 Wireless Keyboard & Mouse Combo
>KEY FEATURES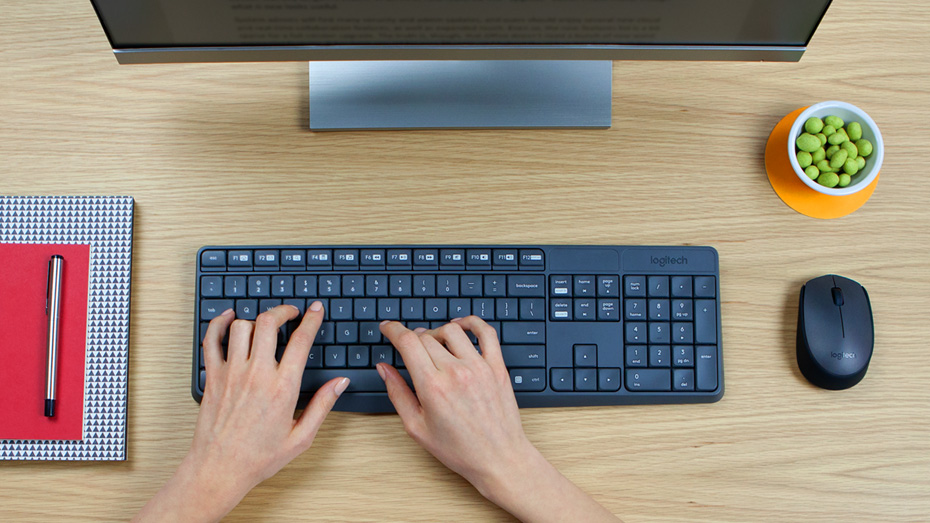 FAMILIAR KEYBOARD LAYOUT
No learning curve involved. You will enjoy the comfort and simplicity of a traditional full-size keyboard layout from day one.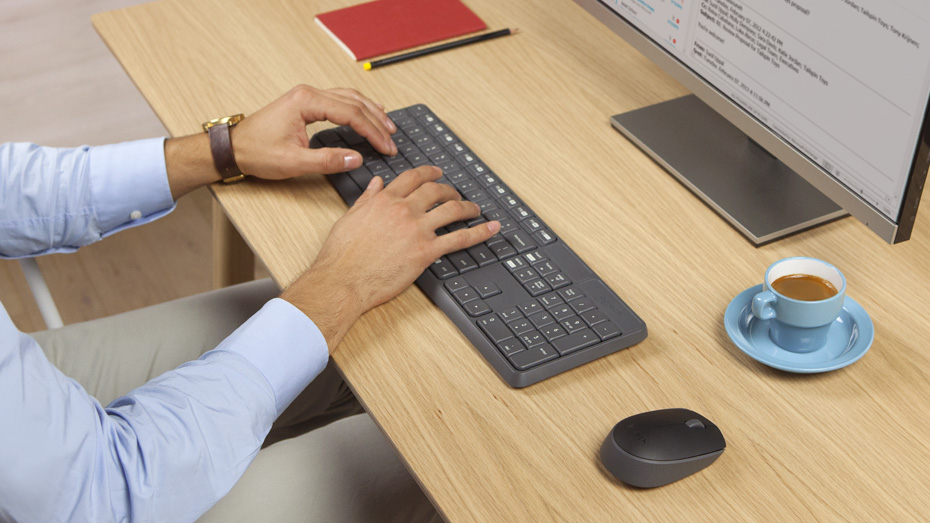 LONG BATTERY LIFE
Type as long as three years between battery changes and use your mouse for up to a year before replacing the battery.

The three year battery life prediction is based on approximately two million keystrokes per year in an office environment. Like all batteries, your experience may vary based on the use and computing conditions.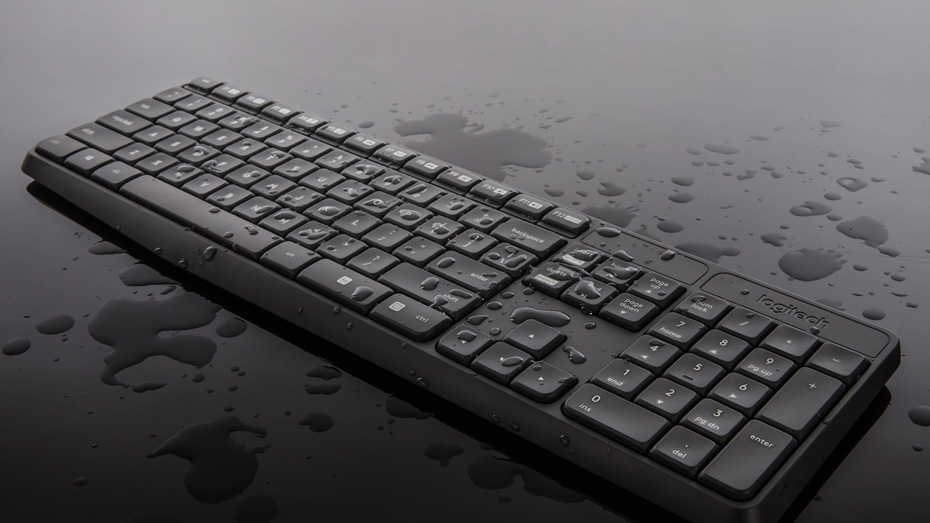 BUILT TO LAST
Durable construction with sturdy tilt legs and spill-resistant design. Anti-fading treatment on each key so you never worry about losing the letters from your keys.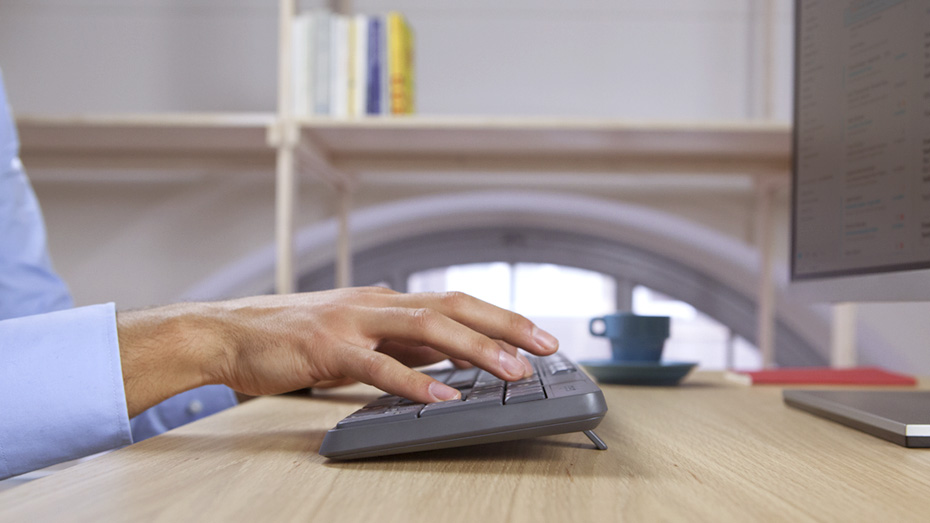 RELIABLE WIRELESS
Simply plug the tiny USB receiver and enjoy a strong connection with no lag time. Your wireless keyboard and mouse will still be connected up to 10 meters (33 ft) away.

While environmental conditions may cause the wireless range to vary slightly, you will always have the connection you need.
>SPECS & DETAILS
DIMENSIONS
Keyboard
Height: 137.5 mm (5.41 in)
Width: 435.5 mm (17.15 in)
Depth: 20.5 mm (0.81 in)
Weight: 475 g (1.05 lb) with 2x AAA battery
Weight: 425 g (15.0 oz) without battery
Mouse
Height: 97.7 mm (3.85 in)
Width: 61.5 mm (2.42 in)
Depth: 35.2 mm (1.39 in)
Weight: 70.5 g (2.49 oz)
Nano Receiver
Height: 18.7 mm (0.74 in)
Width: 14.4 mm (0.57 in)
Depth: 6.6 mm (0.24 in)
Weight: 2.0 g (0.07 oz) 
SYSTEM REQUIREMENTS
Windows® 7, Windows 8, Windows 10 or later
Chrome OS™
Linux® kernel 2.6+
USB port
TECHNICAL SPECIFICATIONS
Connection Type: Logitech non-unifying protocol (2.4GHz) with Nano USB receiver
Wireless Range: 10 meters / 33 feet
Wireless encryption: 128-bit Advanced Encryption Standard (AES) between devices and receiver
Software Support: Logitech SetPoint
Keyboard
Low-profile keys
Adjustable keyboard height
Battery: 2 x AAA
Battery Life (not rechargeable): 36 months
Special Keys: 15 function keys accessible through "fn" key 
Mouse
Connect/Power: On/Off power button
Sensor technology: Advanced optical tracking
Battery: 1 x AA
Battery Life (not rechargeable): 12 months
PACKAGE CONTENTS
Keyboard
Mouse
Wireless receiver
User Documents
2 AAA batteries for keyboard
1 AA battery for mouse
When it comes to online shopping in Pakistan, Shop360.pk prides itself on providing you with a clear and transparent shipping policy.

What is the estimated delivery time?

We understand the excitement you experience when shopping online. That's why we're equally excited to deliver the product without a scratch and as quickly as possible. While we try to get your product into your hands as fast as possible, all online orders usually take 24-72 hours to be there. In extremely rare cases, it may take up to 5 working days. Like you, our valued staff likes to enjoy life as well. As such, the only times Shop360.pk can't deliver are Sundays and Public Holidays.

Express Shipping

Unless specified on the Product Detail Page, Shop360.pk offers its online shoppers the convenience of fast shipping. Where shipping charges are applicable, such as when we use our reliable courier service, we will clearly inform you before you finalize your purchase.

Shipping Invoice

Shop360.pk provides a detailed shipping invoice with each order checkout page, outlining the price, quantities, and shipping charges (where applicable). If you would like further clarification about Shop360.pk's payment options, feel free to contact us on (+92) 3 111 000 135 or email us at info@shop360.pk
Read Below: 
If you received a product that is not what we have described in our catalog, please inform us immediately and return the product, we will refund / exchange your purchase.

Refund Method and timing:
With a few exceptions, we will reimburse you for returned items in the same way you paid for them. If you prefer, you can make an exchange for the same item.

For returns, you are responsible to ship us faulty unit with complete packaging and accessories at our customer care center. Once we receive your return, we will process it within 3–5 business days after inspecting condition and fault of product. We will refund you original purchase price (excluding delivery charges). Depending on your bank's processing time, it may take up to 7 days after we process the return to reflect on your account.

Returns info:
Contents and packaging of product should remain intact.
Items need to be returned in a like-new condition. Items that are damaged, unsanitary, dented or scratched may be denied a return.
Please return items with all accessories and packaging. If you do not, we may either deny the return.

Reimbursements on returns lacking proof of purchase may be denied or limited.
Please read product descriptions carefully before deciding to buy the product. Return or exchange of product is not applicable if product has no issues. Change of mind is not applicable.
Read Below: 
Price Match Policy Details
We won't be beat on price.
We'll match the product prices of key online and local competitors for immediately available products.
Special considerations:
At the time of sale, we price match all local retail competitors (including their online prices) and we price match products shipped from and sold by only major & trusted online retailers.
If we lower our online price during the return and exchange period, we will match our lower price, upon request.
Our Price Match Guarantee covers new items (excludes clearance or on sale items). One price match per identical item, per customer, at the current price available to all customers is allowed.
Our Price Match Guarantee does not cover:
The online prices of retailers not considered in trusted retailers.
Contract cell phones sold by any online retailer.
Products shipped from or sold by third-party sellers on websites.
Pricing only available to select groups of customers including loyalty offers, discounts relating to non-warehouse membership programs and government exchange store offers.
Transactions from Marketplace store on a third-party website.
Competitor offers including service prices (delivery and installation charges), pre-order offers, liquidation offers, trade-in offers, and special daily or hourly sales.
Any financing offers, bundle offers, items included in bundle offers, free items, pricing errors, mail-in offers, coupon offers, items that are advertised as limited quantity, out of stock items, clearance items, open-box items, refurbished items, pre-owned items, credit card offers, gift card offers, items included in gift card offers, rent/lease to own items, Point of Sale Activation cards or by video game discounts related to a membership program and items for sale, whether offered by Shop360 or a competitor.